Motorola is known for its timely update their smartphone to latest Android versions. They have just started rolling out official Android 6.0 Marshmallow update for the two-year-old Moto G 2014 (2nd Gen) in India. Owners of Moto G 2014 (XT1068) will receive the Android 6.0 OTA (over the air) update notification shortly on their device.
Android 6.0 Marshmallow brings some of the best features that you really need on your Moto G 2014. The new personalized app permission system, the battery life saving system Doze mode, app standby, Google Now on Tap, revamped do not disturb (DND) system, system UI tuner, expandable storage, direct share and the new volume control are the best examples.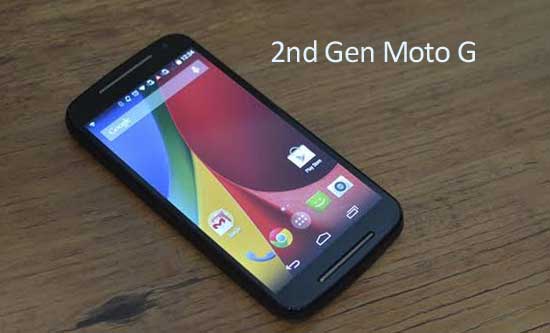 Motorola has published the Android 6.0 Marshmallow release note for Moto G 2014 (2nd Gen.) You can read full changelog of this update here.
It will take some times to reach the Android 6.0 OTA (over the air) update notification on your 2nd Gen Moto G 2014. It is a big file (around 460 MB) and for a successful installation, you need to connect your phone to a Wi-Fi network and require at least 80% battery charging on it.
How to update Moto G XT1068 to Android 6.0 Marshmallow
Note that once you update your device, you cannot downgrade to a previous software version.
Once you received the OTA notification on your device, select 'Yes, I'm in'. It will download the OS. Once download completed, select 'Install now'. After completing the installation, your Moto G will re-start automatically.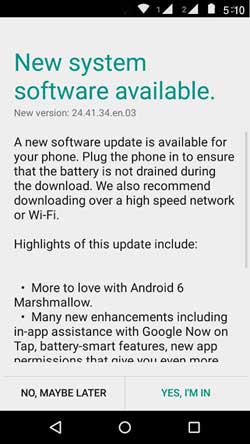 Now, if you have not received the update notification message, follow the steps below to update your Moto G 2014 manually.
1. Go to phone Settings -> About phone -> System updates.
2. Select 'Yes, I'm in'. After the OS is downloaded, select 'Install now'. Your phone is now updated to software version 23.41.34.