If you have recently updated your Android phone's firmware from Froyo to Gingerbread, or to the new Ice Cream Sandwich (in the case of Galaxy Nexus), you might have noticed that some apps installed from the Android Market automatically creating shortcut icon on the home screen. Of course, it is a convenient feature, but if you prefer to put only some specific app's shortcut on the home screen, it would become annoyance.
Here is how to prevent apps from automatically creating shortcuts on your Android's home screen. It is quite easy – no complicated works involved.
1. Open the Android Market.
2. Tap on Menu button (usually located at the bottom left of your device or in the case of Galaxy Nexus with Ice Cream Sandwich, you can see three vertical dots at the top right of your phone's screen) and select Settings.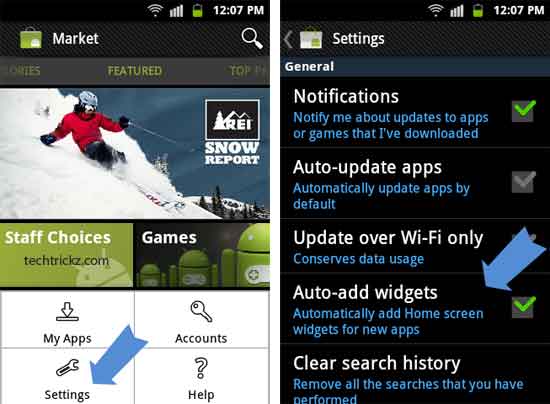 3. Uncheck the option Auto-add shortcuts or Auto-add widgets. That's it!
Final thought: I know it is a very simple tip, however sometimes such a small thing can have greater help for some one. [Via]