After rolling out the Android 7.0 Nougat (Sense 8) update for the unlocked variants of HTC 10, the company now starts rolling out Android 7.0 Nougat update for the unlocked HTC One M9. The OTA update comes with software version 4.14.617.6 and to get the OTA update, your HTC One M9 should be on software version 3.35.617.31. If you have any issue updating via OTA, you can manually install the OTA update or flash full firmware (RUU.exe).
In this guide, we will let you know how to update HTC One M9 to Android 7.0 (Sense 8) manually. The manual installation method is simple. If HTC One M9 is running on software version 3.35.617.31, you can simply update it to Android 7.0 (Sense 8) (software version 4.14.617.6) in recovery. Or you need to flash the full firmware (RUU file).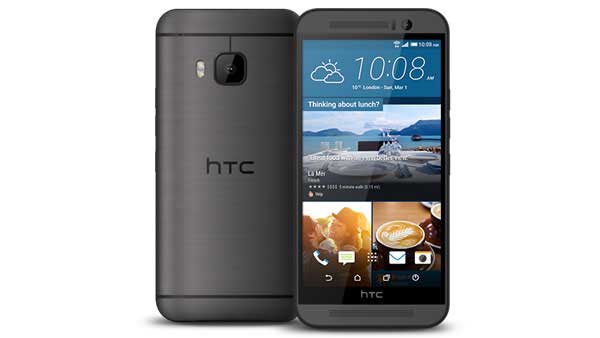 The Nougat Sense 8 update brings new features like multi-window mode, better battery management, redesigned notification experience, Direct Reply, redesigned Settings menu, and more. However, it seems that this update will not fix overheating issues of HTC One M9.
If you have not received the OTA update yet, you can download the official HTC One M9 Nougat file and flash it yourself. Check out the guide below.
How to update One M9 to Nougat and Sense 8 manually
WARNING: The below procedure will delete all information from the device. Back up every data you have on the phone before proceeding.
Install Nougat OTA update via stock recovery
1. Check your current software version (All apps > Settings > About > Software Information). If it is 3.35.617.31, follow the guide.
2. Download the HTC One M9 Nougat OTA update zip files [HERE] [Source] and save it on your phone storage.
3. Now, reboot HTC One M9 into stock recovery (Power Off, press and hold Power & Vol Down buttons together).
4. In recovery, choose 'Install update from phone storage', select the OTA update zip file and wait for the process to complete.
5. Reboot and enjoy!
Install Android 7.0 Nougat Update using RUU.exe file (full firmware)
1. Download [HERE] and install HTC Sync Manager on your PC in order to get the proper drivers, if you do not have it already.
2. Download HTC One M9 Nougat RRU update file [HERE] [source] to your PC.
3. Connect your device to your PC via the supplied USB cable. If the PC does not recognize the device, check USB cable.
4. Once the device is properly recognized on the PC, locate the Nougat RRU update exe file that you downloaded. Double-click on the exe file to launch the system update wizard.
5. Follow all of the system update wizard instructions shown on your PC.
6. Once the update is complete, click Finish in the Wizard and the device will reboot. Set up and enjoy.
Note: If the update wizard fails to recognize your HTC One M9, close the update wizard and then follow the below steps.
1. Turn off the phone, press Volume Down button and press Power button to turn on the phone.
2. It will boot your device in to 'Download' mode
3. Connect the device to the PC and start the ROM update process again
4. Once the device reboots, set up and enjoy.
[To exit download mode manually, use the volume keys to navigate to reboot and press the POWER button to select it]
After the initial setup process is complete, open Play Store, tap the Menu icon, then select My apps and ensure all installed apps are updated. Leave your views in the comment section below (Source – 1, 2)