WhatsApp recently introduced a document-sharing feature, which lets you share and receive PDF files via the messenger. This is certainly a good addition to WhatsApp, but unfortunately, it currently supports PDF files only. However, there is a workaround to share any document files (Word, PPT, Excel, etc.) too, if you have root access on your Android phone.
To get document-sharing feature, your WhatsApp should be updated to latest version (current version is v2.12.503). Once you updated your WhatsApp to the latest version, you can enable the messenger to send any document types (DOC, TXT, PPT, XLS and many others) regardless of the size, but should have root permission on the phone.
Thanks to the XDA contributor yossijoe for the simple workaround. With a few simple steps, you can share any document types to your contacts. Supported formats are DOC, TXT, PPT, XLS and many others.
How to Share any Document Types via WhatsApp
1. Download [HERE] and update WhatsApp to latest version
2. Install ES File Explorer from Play Store
3. Open ES File Explorer, enable Root Explorer and then navigate to data/data/com.WhatsApp/shared_prefs/com.WhatsApp_preferences.xml with ES Note Editor.
4. You will see the string <string name=documents">PDF</string>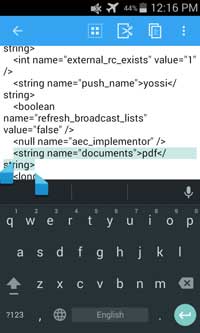 5. Add the extensions doc,txt,docx,pptx,xls besides pdf.
6. Save the editing and force close WhatsApp.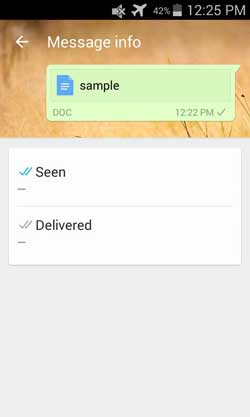 Restart your phone and see how it is working. You are now ready to share any document types (pdf, doc, txt, docx, pptx, xls) with your contacts. (Source – XDA)