Samsung Galaxy S7 and S7 Edge features an "Always-On" display, which displays the clock, calls, messages and battery percentage when you are not using the phone. If you are wishing to get Galaxy S7's 'Always-On' display feature on any of your Android phone, the 'Glance Plus' app bring that and let you enjoy the same experience on your phone.
Galaxy S7's Always-On display is similar to Moto X's 'Moto Display' and let you see what is going on without waking your phone. Both phones display information in a plain white text and in a black background, so the battery usage will be negligible. This is because, both devices have AMOLED display and black pixels do not consume battery. In addition, when your Galaxy S7/S7 Edge is face down or inside a pocket, the feature will be automatically turned off which will also save battery.
Note that the Galaxy S7's 'Always-On' display is a software feature, which means you can get this feature on other Android phones as well. The Glance Plus app brings Galaxy S7's Always-On Display feature to any phone running on Android 4.3 and later.
Important Note: To get full advantage of this app, your device has an AMOELD screen as in Galaxy S7; otherwise, the battery consumption will be higher. However, you can reduce the battery usage by adjusting screen timeout and background brightness with in the app.
How to get Galaxy S7 Always-On display on any phone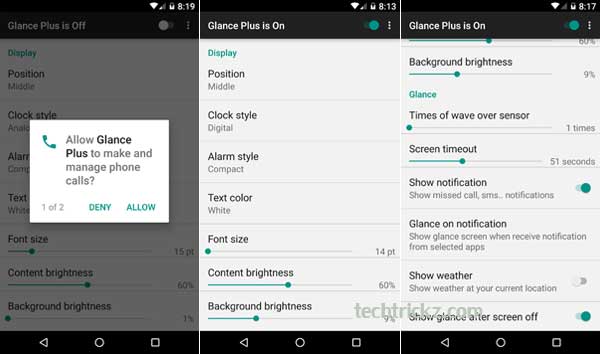 1. Download Glance Plus app from Play store [HERE]. It is a free download.
2. Open Glance Plus, enable permissions (on Marshmallow) and turn on the service.
3. Select the, clock style, text color, font size, background brightness, etc. from the settings.
4. To get notifications (missed calls, SMS, etc.) on the screen, you have to enable it from Notification access.
5. To weak up your phone, double click or long press on the screen
6. To turn off glance screen, just press power button