Google Maps is available on every Android device. The turn-by-turn navigation and the recent offline map support turns Google Maps into a serious Satnav tool for every Android user. A handy feature of Google Maps turn-by-turn navigation is voice guidance, which helps you navigate trouble free when you are driving. Now, learn how to increase or decrease voice guidance volume level.
In this tutorial, we show you how to increase or decrease Google Maps navigation voice guidance volume level. Though you can use your phone's volume buttons to increase and decrease the volume level, the same will reflect on other areas, such as music volume. To tackle this situation, Google Maps provides an option to adjust the volume level of turn-by-turn navigation.
How to Increase Google Maps Navigation Voice Level on Android
1. Open the Google Maps app, and tap on Menu (three vertical bars shown in the upper left corner)
2. Tap on 'Setting' and in the settings menu, tap on 'Navigation settings'.
3. In the 'Navigation settings' menu, tap on 'Voice level'.
4. The default setting value is 'Normal'. Select the required voice level – Louder, Normal or Softer – as per your requirement, and then close Google Maps app.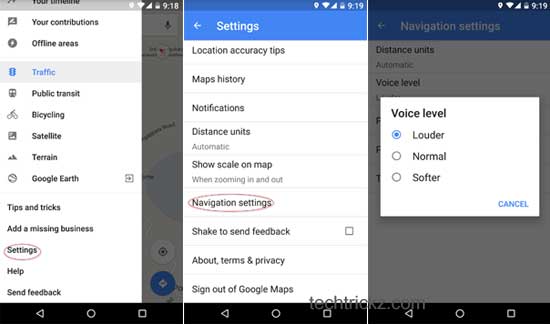 Note that, the differences between the three voice levels are significant. If you want a louder voice, choose the first option 'Louder' and then close Google Maps app. Happy journey! (Source)