Google Calendar is one of my favorite android application, because it is easy to work with, has simple and clean interface, it's running pretty fast and above all it's easy to keep track of life's important event. If you have using the new Google Calendar app on your Android phone or tablet, you might have noticed that the new Calendar icon displays "31" regardless of the date. Here is how to address this issue.
You can enable current date on Google Calendar icon with a little app called Google Calendar Live Widget. It can show real date on Calendar icon instead of the permanent "31".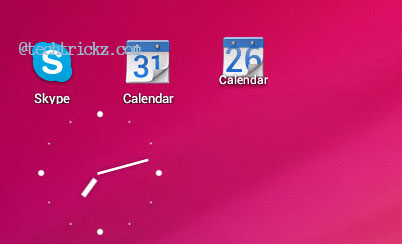 Remember that the app does not make any changes to the original Calendar icon, instead it adds a new calendar icon that you can place on your home screen and if you click that icon, it launches the original Google Calendar.
NOTE: This is a widget app, so its icon will not appear in your app drawer. To add, go to your widgets, look for "Calendar Live Widget" and add that to the home screen for it to function.
Download Google Calendar Live Widget from Play Store