Adobe Flash is an indispensable component of today's computer system. To watch rich video content or to play games online requires flash. Unfortunately, flash is also a most vulnerable element in a computer system (read this article); there are several reported exploitations in recent days. The only solution to prevent exploitation is to update flash to the latest version.
Adobe doesn't have a good auto-update system for flash, so you need to manually update your flash version to the latest one. To check the installed version of Flash Player, just visit this Adobe website, there you'll see a page as shown below.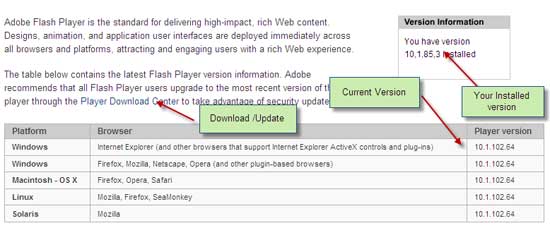 Right top shows your installed flash version, bottom shows current version. If both of them are different update flash player from here.
If you use multiple browsers like Internet Explorer, Firefox and Opera, you should update each one's flash plug-ins separately. For Google Chrome you should upgrade your browser. Hope you'll enjoy this post!