Google is rolling out a new feature 'Gmailify' to its Gmail app, which brings Gmail features to non-Gmail accounts, such as Hotmail, Yahoo Mail and Microsoft Outlook. Once you 'Gmailify' your non-Gmail accounts, you will get Gmail's best features, such as spam protection, auto sorting email based on type, better mail notifications, Google Now cards based on the content of your mail to your accounts.
The Gmailify feature is available with Gmail app version 5.11. If you are using Gmail app to view Microsoft Outlook, Hotmail, or Yahoo! Mail, you can link them to get Gmail's best features. Once you linked, you can read, reply, and organize your mail just like you do in Gmail.
You will get below features once your Gmailify your non-Gmail accounts:
– Gmail's spam protection
– Automatically sorting email based on type (Social, Updates, Promotions)
– Faster search, with advanced search operators
– Travel and hotel reservations appearing automatically in Google Now
– All your mail in one place.
– Better mail notifications on mobile
How to Gmailify Your Non-Gmail Accounts
1. Update your Gmail app to latest version (5.11). [You can download latest version of Gmail app apk from Apk mirror]
2. After updating, open the Gmail app and tap the Menu (3 vertical bar) in the top-left.
3. Scroll down and tap 'Settings'.
4. Tap the non-Gmail account you would like to link.
[If you have not a non-Gmail account, tap 'Add account', set up your mail account and follow the instruction]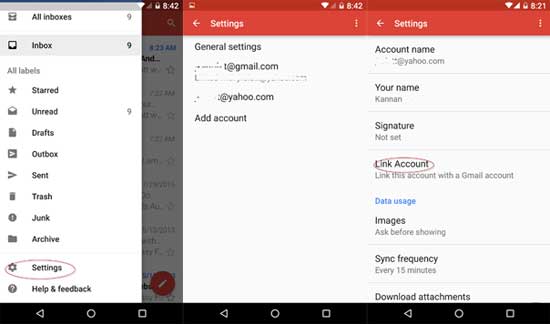 5. In the next screen, tap 'Link account', sign in with your account.
Once you finished the setup, you will see emails from your account under the linked Gmail address in the Gmail Android app. You can also see mails on the web at mail.google.com.
Note: You can unlink your account at any time. Just open the Gmail app, tap menu, scroll down and tap Settings. Tap the Gmail account you would like to unlink and then tap Unlink in category Linked Account. (Source)