The world's fastest and lightweight security software ESET NOD32 Antivirus and ESET Smart security has lots of fans arround the world. It has an effective technology to protect you from all types of malware without slowing down your system. If you are a ESET NOD32 user, most likely you have got the message 'Maximum protection may not be ensured" and "Operating system is not up to date' and the protection status icon turned to yellow from green.
Of course, to attain maximum security, your operating system must be updated regularly, but this is not always possible. For instance, when auto- update is disabled to prevent any possible update issues or when an internet connection is not available.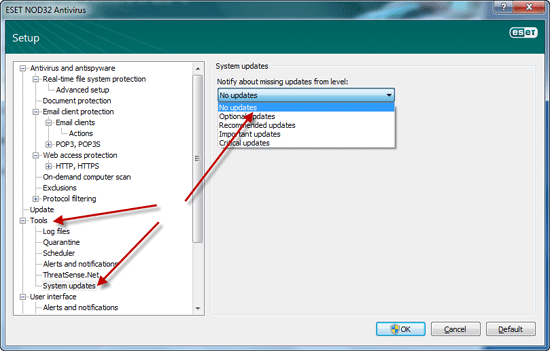 If the OS update notification of ESET NOD32 annoying you, you can simply disable or modify it. To do that follows the steps described below.
Open ESET Node32 antivirus or ESET Smart security.
Press F5 key to open advanced setup.
From the Advanced Setup click Tools – System updates
From the drop-down menu select your preferred notification setting (e.g. no update) and click OK to save the settings.
Hope this brief tutorial will be useful to you [via]