As you may know, latest Android devices like Nexus 5X, Nexus 6P and OnePlus 2 comes with USB Type-C ports that offer quick charging and can accept the connector whichever way it is inserted. However, to connect the device to a PC that does not have USB Type-C ports, you need to buy a Type-C to Type-A cable or adapter, but a bad cable can damage your device.
Here is how to check a USB Type-C to USB Type-A cable good or bad. A cable or adapter that does not meet the Type-C standard can damage your device (Read more about this here). As too many Type-C cables and adapters are available, it is difficult to identify a cable that meets Type-C standard.
CheckR is a little app for Nexus 5X and Nexus 6P that checks whether an USB Type-C to USB Type-A cable is good. The app uses Sysfs (a part of Linux kernel) to determine the charging current to the phone when connected to PC using the USB Type-C adapter.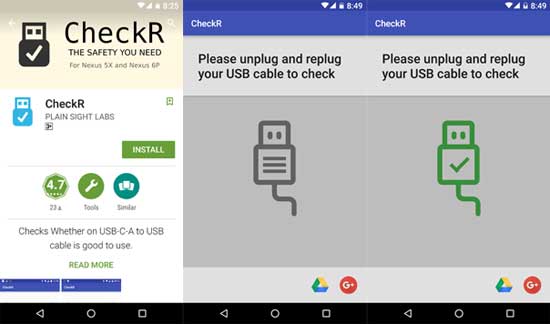 How to use CheckR to check Type-C cable
1. Download CheckR [HERE] from Play store
2. Connect a USB Type-C to USB Type-A cable to your PC and start the CheckR app
3. Now, connect the USB Type-C end to the phone to get the result
Note that the will not give usable result if you connect the phone to a charger with a charging cable while checking. It should be connected to a USB Tye-A port on other end.