Google's Device Assist is one of the best applications for Android devices. It lets you diagnose dead or stuck pixels on your phone's screen, test internet speed, shows detailed information about your device and teaches you how to use various features of your Android phone. All these will enhance the use of your phone. Device Assist also help you fix any issue it finds.
In this tutorial, we show you how to use Google's Device Assist to diagnose dead pixels and test internet speed on your Android phone. Dead (black dots) or stuck pixels (discolored dots) are a common issue on LCD screens, which can be easily identify by displaying basic colors in full screen mode.
Another common issue on Android device is low internet speed, but it varies with networks, signal congestion and device model. You can check the internet speed and latency with Device Assist.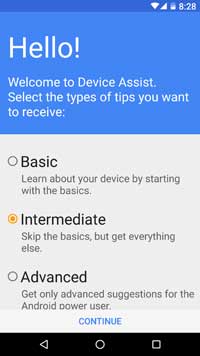 Device Assist currently supports Nexus devices only. However, you can try it on any phone (Samsung, LG, HTC, Moto) by downloading the APK and sideloading it. The app requires Android 5.0 Lollipop and later to run.
How to use Device Assist to Test Dead Pixels and Internet Speed
1. Install Device Assist from Play store [HERE] on your Nexus phone. For other phone makes, download the APK [HERE] and sideload it.
2. Run Device Assist. You will see the welcome screen with three experience level options (Basic, Intermediate, Advanced). Just set your level, for example, Basic.
How to test Dead or Stuck Pixels
1. To test dead or stuck pixels, tap on the search icon, type 'test screen' in the search bar and then tap on 'Test your Screen".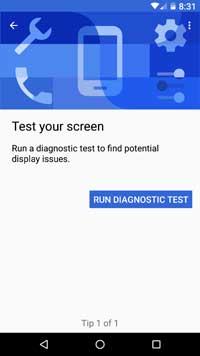 2. Now, tap on 'Test your screen' to find any potential issue. The app will display a white screen in full-screen mode. Check for any pixels that are not being display properly. Tap on the screen to display different colors to identify any discolored pixels.
How to test internet speed
1. In the search bar, type 'test internet', select 'Test your internet speed' and on the next screen choose 'Test your Internet Connection".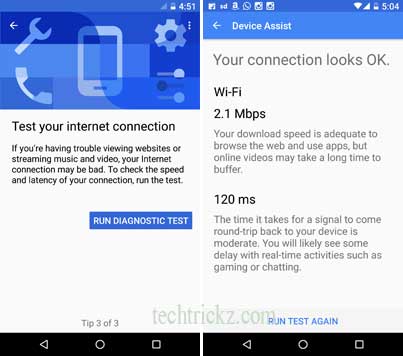 2. Device Assist will test your download speed and latency and the show the results.