WhatsApp users can now make free video call on their favorite messaging app. The latest beta version of WhatsApp (v2.16.318) has added video calling function allowing you to make free video calls to any other WhatsApp user across the world. Last year WhatsApp added voice-calling feature letting users talk each other instead of just texting.
Because the video calling is a new feature and the company wants to test it further before implementing publically, currently video calling is not available for all WhatsApp users. It is enabled for the beta users of WhatsApp only. If you want to test the new video calling feature, you need to become a WhatsApp Beta tester.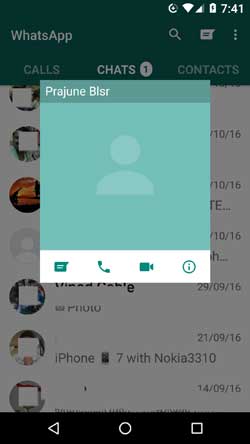 You can also try by installing the latest beta version (2.16.318) APK of WhatsApp (download the apk from APK Mirror). However, note that by simply installing the WhatsApp beta version APK may not bring the video calling feature to all users. You may want to delete data and sign in again to get the feature.
To become a WhatsApp beta tester, go to Play store and search for WhatsApp. Scroll down and above developer description, you will see 'Become a beta tester' option. Just tap on I'M IN and your WhatsApp will updated to latest Beta version.
How to Make Video Calling on WhatsApp
1. Install the latest beta version of WhatsApp from Play store.
2. Open the app and tap on a contact you want to video call.
3. Tap on the 'video' call button. That's it.