The new tab page in Chrome and Firefox is pretty cool, since you can search right from it, access Google's web tools, jump over to Firefox's settings, view browser history, and so on. However, if you would like to have a blank new Tab page either for privacy reasons or to eliminate distractions, you can clean everything from it and always have a blank page.
How to make new Tab Page blank in Chrome?
Install the Chrome add-on Empty New tab page from Chrome Web Store and when you open a new tab, all you will see a blank while page that does not even have a title.
It is quite useful for those who don't want to worry which recently visited pages show up on the new tab page, who prefer plain over noisy, simple over complex.
How to make new Tab Page blank in Firefox?
In Firefox, you don't need an add-on to make the Tab page blank. Just type about:config into the address bar and hit enter. Search for the entry 'browser.newtab.url' and double click it.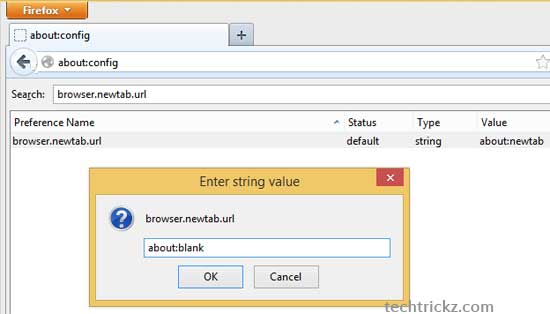 When the enter string value box opens, enter about:blank and click OK.
To get the New tab page back, double click the same entry and enter about:newtab