Google recently launched a new App launcher by replacing the Black Navigation bar, which makes it easy to access Google web based tools such as Gmail, Play Store, G Drive and other apps. However, it does not have an option to customize the shortcuts displayed on the app launcher.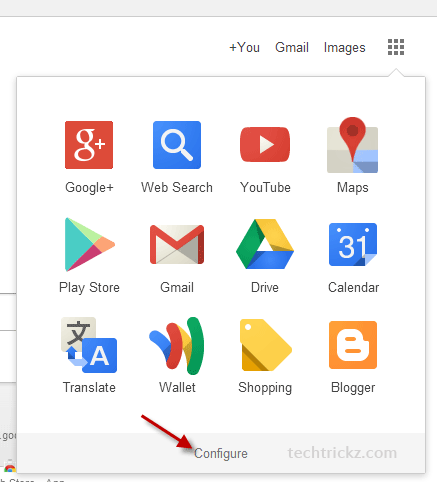 With App Launcher Customizer for Google Chrome, you can add more than 170 shortcuts on the launcher. Also, you can create custom shortcuts for any website you want, so you can launch websites right from the launcher quickly.
It is easy to use and configure this extension. Install App Launcher Customizer for Google from Chrome Web Store. After installation, open up the App Launcher by clicking its button and then click "Configure" button displayed below the app launcher (see above image).
On the configure page, you will see a list of shortcuts. The right-side list shows the available shortcut. To add a shortcut from the left-side list, just drag it to the right side and restart Chrome.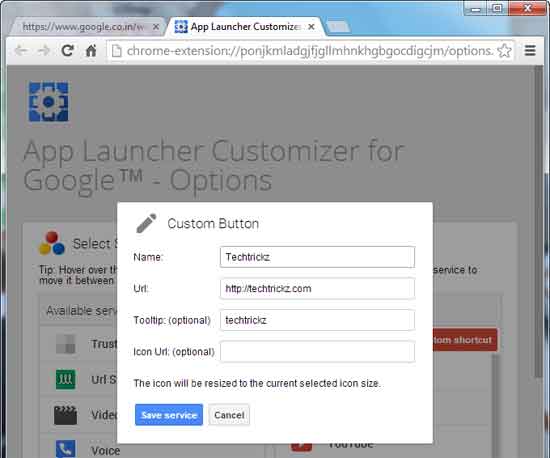 To add custom shortcut for any website, click "Add Custom Shortcut" button, then enter name for the site, URL, tool tip (optional), icon URL (for instance, favicon URL) and click "save service" button.
You can add or remove all shortcuts via the two buttons shown below the left list. Also, you can filter the shortcut via the search box and sort shortcut via the "Sort A-Z" button.