Bring Windows Phone 8's Like Modern Interface with Live Tiles on Android
Bored with your Android phone's traditional icon based interface? Love to have something new, like Windows Phone 8's modern interface with live tiles on it? Then, you might like the Android home screen replacement app "Launcher8". This app simulates Windows Phone 8's modern interface with live tiles (however limited in features) on Android device (I had mentioned about similar app in a previous post, do check that also).
Personally, I love Microsoft's new interface dubbed "Modern UI", aka Metro UI. Launcher8 can simulates the same "Modern UI" on Android phone, and will bring you a new experience with the brand new UI style along with live tiles.
Installation and configuration of Launcher8 is somewhat simple. Install it from Play Store and run it. You can configure each tile – its size, color, app association, and icon by long pressing and tapping on edit option.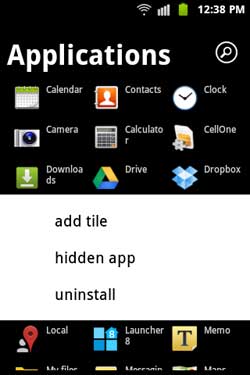 Similarly, you can add new tile by long clicking an app. For example, long press an app and tap "add tile", then add name, choose tile size, color, picture, etc. and tap on "confirm" option.
You can change the theme (tiles color, font, background color, etc.) by clicking menu key and then choosing "theme" option.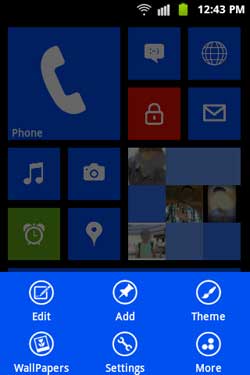 Final thought: Launcher8 works without problems on my Galaxy device. However, it requires some improvements. For example, some tiles aren't responsive when I tap on them.