Change Firefox 4 Address Bar Search Engine to Bing
The latest Firefox 4 is considerably faster and boasts some welcome features with minimal look. Now the address bar has changed to omni bar ( combination of address bar and search bar, similar to Google Chrome), which means, you can type in a web address as usual or keyword you want to search for in the address bar.


The default search provider for Firefox 4 Omni bar is Google, and there is no easiest way to change it to Bing, Yahoo or any other search engine without tweaking about:config page manually.
How to change the default Firefox 4 address bar Search Engine:
Type about:config in Firefox 4 Address bar and hit enter.
In the Filter field search for keyword.URL. Right-click on keyword.URL and click Modify.
Now enter any of the URL (Google, Yahoo, Bing or any other search URL) shown below in the box and hit Ok.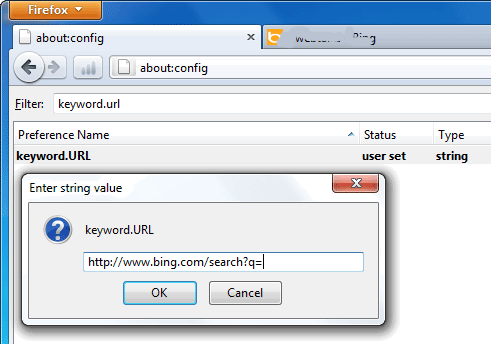 Google Default: http://www.google.com/search?ie=UTF-8&q=
Yahoo Search: http://search.yahoo.com/search?p=
Bing Search: http://www.bing.com/search?q=
Ask: http://www.ask.com/web?q=
Google Browse By Name: http://www.google.com/search?ie=UTF-8&sourceid=navclient&gfns=1&q=
Google I'm Feeling Lucky: http://www.google.com/search?ie=UTF-8&btnI=&q=
Hope you'll enjoy this simple post. (via)