While browsing the internet, there are situations in which you want to visit a website on your mobile phone to get its full experience. Or, sometimes you may want to share a YouTube video link, map, etc to your phone.
Here is a quick and simple solution to do so. The add-ons Chrome to Phone (For Google Chrome) and Send to Phone (For Firefox) help to share links of any website, text or image to your Android phone.
It uses Android's Cloud to Device Messaging service (C2DM) to share links. To work it, install the Google Chrome to Phone apps to your Android device from Android Market (requires Android 2.2 (Froyo) or later) and then install the add-on for Google Chrome or Firefox.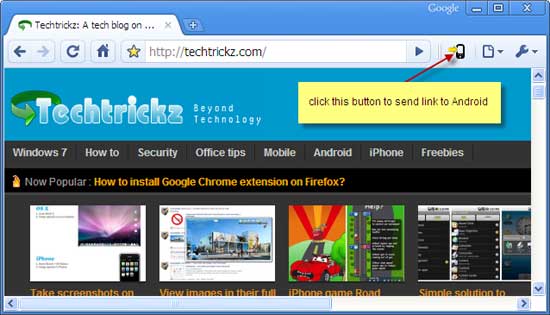 To share a link, simply click on the phone icon and the link will be pushed to your device. You will be required to log in with the same account used by your Android device.
Download Chrome to Phone (For Google Chrome) and Send to Phone (For Firefox)