Huawei's EMUI (EmotionUI) ROM supports theme engine, which means you can customize your Huawei phone with themes. Several EMUI themes are available at Huawei's theme store to spice up the phone. However, users can also create their own themes and give their phone a unique look. The EMUI Theme Editor helps you create custom themes for Huawei phone, such as Honor 8, Honor 7, Honor 6, Mate 9, Mate 8, P8, P8, etc.
EMUI Theme Editor is a free download on Play store. The app lets users easily create their own theme for EMUI (Huawei Honor or Mate phones) ROM. A theme comes with beautifully designed set of wallpapers, icons, fonts and other details. That means a theme can entirely change your phone's interface and give a unique look.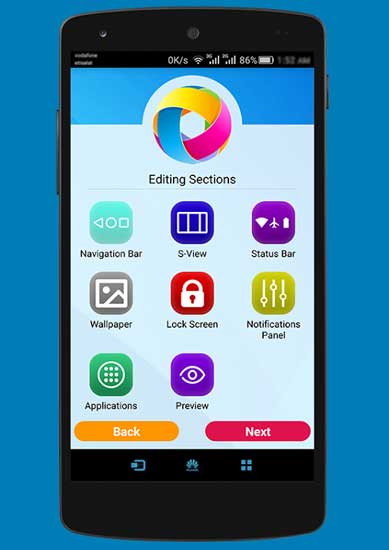 With EMUI Theme editor, you can customize font, app icons, navigation keys, status bar icons (battery, signal, Wi-Fi, etc.), wallpaper, lockscreen, and even the smart cover view.
The edited theme can be used to spice up your Huawei phone. The app has a simple interface and wide set of options to help you customize your phone easily.
Interested users can download the app from Play store [HERE]. The app supports Huawei phones only. It is completely free (no ads) and does not require root access on the phone.
However, the developer recommends disabling any ad-blocker you have on the phone for proper functioning of the theme editor.