Official Android Lollipop update yet to be released for LG G2, it will take some times to reach the update. However, users can now enjoy Android Lollipop on their LG G2 via unofficial CyanogenMod 12 ROM (CM12). This custom ROM supports a number of LG G2 variants such as D800, D801, D802, LS980, and VS980. Other variants will include in the future development.
If you want to install the CyanogenMod 12 (Android Lollipop) on your LG G2, check out the following installation guide. However, please note that the CM12 for LG G2 is not an official ROM and is experimental, which means it is not ready to be used as a daily driver. It might have many bugs that have not been fixed yet, so install this ROM at your own risk.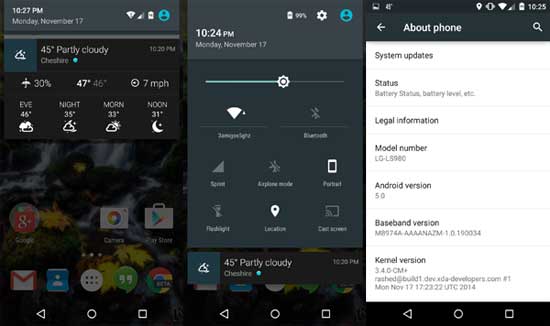 Before you get start installing the CM12 ROM, checkout things that are not currently working with this ROM.
– Video recording
– CM features (yet to be ported)
– Data/Mobile Network on LS/VS980 report roaming incorrectly sometimes
– GPS for some people
Installation Instruction
Install this ROM at your own risk. We can't take responsibility for anything that goes wrong.
Prerequisites: As always, backup any important data. Also, your device must be rooted and latest custom recovery installed.
1. Download CM12 zip file for LG G2 D800, D801, D802, LS980, VS980 from here and copy it to your device's root of SD card.
2. Boot LG g2 into recovery mode and do a full wipe (wipe data/factory reset, cache partition, dalvic cache)
3. Flash the ROM zip file.
4. Also flash Google app and SuperSU, if required.
5. Finally, reboot your LG G2 and enjoy Lollipop!
Note: If you lose access to you SD card (known to occasionally happen on the LS980), follow these commands:
Connect your phone to your PC with ADB enabled and issue the following command one by one.
adb shell
su
restorecon -FR /data/media/0
Important: The above mentioned ROM is experimental and have many bugs. Do not install it for daily use. (source – XDA)