Smart Mouse is a freeware app and as its name implies it can turn your Android phone into a wireless "smart" mouse for your Windows computer. It supports a full set of gesture and let your fingers do the clicking, scrolling, swiping and pinching on the screen of your phone. Also, this app can use to transfer files wirelessly from the mobile device to the desktop and vice-versa.
In addition, it supports one-to-many connections, so you can control multi-PCs with just one handset. You can you easily access folders or launch files, you can remote browse the web, send files from the mobile to the PC and vice-versa and use it as a remote keyboard.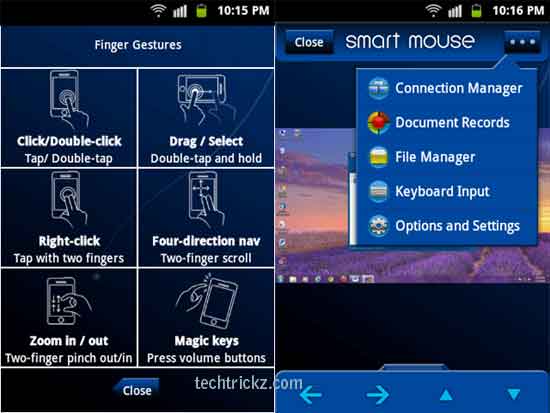 Below is some of the main use of this app
1. Special control module for PowerPoint presentations: Better than expensive presentation pens.
2. File transfer between mobile and PC: Get rid of the need for a USB data cable.
3. Browse the recent files in PC.
Setting up SmartMouse is rather a simple process. It has two parts – a sever app for PC and a client app for mobile phone (Android or iPhone).
To get started, head over to Google Play and grab SmartMouse. It is a free app and support Android 2.2 and later. Then, you will have to download the server app that lets your PC talk to your Android device. Head over to developer's website and download it free. It requires Windows 7 or later.
Once the server and the mobile app are installed, you can connect the PC with your phone via either Wi-Fi or Bluetooth. Just run it both on your PC and on the mobile. Your phone will automatically scan and displays your PC's name. Just tap it to establish a connection. Then start using its features.
The operation is quite smooth and fast. Also, the desktop client lets you password protect the app. You can also specify received file location, if you want