As android device carries our personal information, everyone should protect this important information and privacy from praying eyes, because if it gets stolen or lost, all information can be easily exposed to hackers. All Android devices have a built-in screen lock system (Pattern, PIN and Password) to protect the device from unauthorized access; however, if you are looking for a different method to protect your Android phone from prying eyes, certainly you like ScreenLocker.
ScreenLocker is a simple app that brings Apple's Touch ID security (fingerprint scanner of iPhone 5s) look like feature on Android, but it is not a fingerprint scanner, only a nifty app that makes you think it is scanning your fingerprints (Android devices yet to support fingerprint scanner).
The app is simple and effective and can be used as a fun way to protect your Android phone. It supports Android 2.2 and later. Setting up and using the app is rather simple. Here is how it is.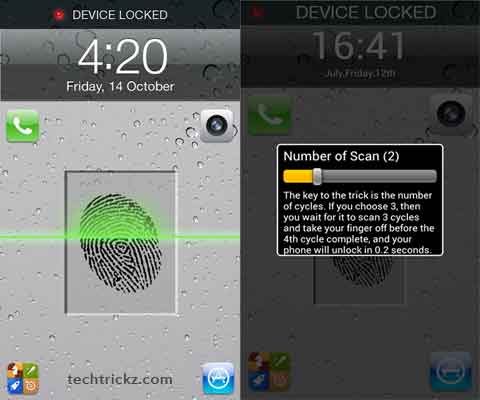 Install (download link at the end of this post) and run the app then press the menu key and tap "How to use". Alternatively, you can start by pressing the red light shown in the top corner of the screen and select the number of cycles using the slider. This is the number it will take to unlock the phone, so make sure to remember the cycle number.
Once you are ready to unlock your phone, just press your finger on the scanner and hold down for the number of cycles. Your phone will instantly unlock. For example, if you chose 3 cycles, wait for it to scan for 3 cycles or for the finger lock image to beep 3 times. Then take your finger off, the phone is unlocked.
ScreenLocker is a free app and can be downloaded from Play Store here.