Now you can theme your Google Keyboard in any Android version, which was only possible in Android N (Android Nougat) until recently. Google updated its keyboard app to version 5.1 with few new awesome features and support for older Android versions. The most important change in this update is the option to theme the keyboard with different color and images of your choice.
Google Keyboard v5.1 will be available on all Android phones running on Android 4.2 and above with theme option. If the old light and dark background color does not please you, the new Google Keyboard app v5.1 lets you choose 13 different colors for your keyboard. Also, you can use your own images as background for your keyboard.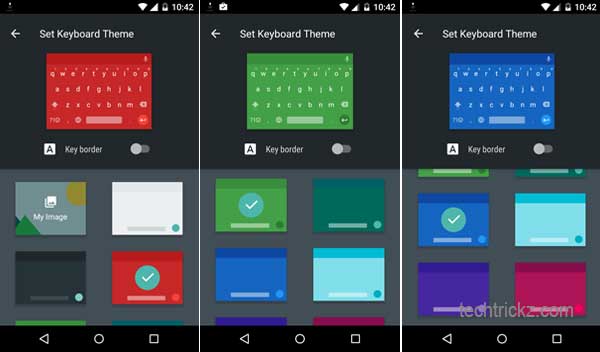 Also, you can toggle the key borders on/off to make each letter show up a bit more. This will help you fix any trouble seeing your letters properly, especially after setting a background image for your keyboard.
Another change in this version of keyboard app is the inclusion of Unicode 9 emoji with selectable skin tone, but currently it support Android N only.
How to Theme Google Keyboard
1. To theme Google Keyboard, update your keyboard app to version 5.1 by going to Play Store [HERE] or by downloading the Google Keyboard app v5.1 apk [HERE] and sideload it
[If you download the APK, choose correct variant based on your device architecture – arm64/arm/x86/x86_64]
2. Now, open your Google Keyboard app (Settings > Language & Input > Google keyboard)
3. Tap on 'Theme' choose a desired color or tap on 'My image' option and select your image. That's it.
4. To enable or disable keyboarder toggle the switch 'Key Boarder. (source – AP)