After several months of beta testing, finally TeslaCoil has released stable version of Nova Launcher 5.0 with Google Pixel Launcher and Android 7.1 features. In addition, this new version brings a choice of other new features, bug fixes and optimizations. Nova Launcher is one of the best customizable home screen replacement apps for Android smartphone.
Nova Launcher 5.0 features Android 7.1 Nougat app shortcuts (even on Lollipop and Marshmallow), Google Pixel like weather widget, search bar, swipe to open drawer features and few other new features, such as double-tap-swipe gestures, timeout screen lock method, quick start, etc.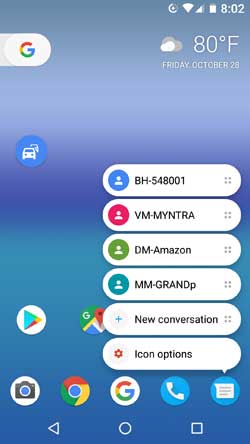 One of the best features of Nova Launcher 5.0 is that it lets you customize your Android phone to get a look and feel of Google Pixel launcher. In addition, the version 5.0 brings Nougat's launcher shortcuts like function – a very interesting new feature introduced by Google with the release of Android 7.1 Nougat – to older Android versions.
What is new in Nova Launcher 5.0?
– Swipe to open drawer (a la Pixel Launcher)
– New Pixel style search bar
– New search view, with tabs for Frequent, Recent and New/Updated apps
– New "Timeout" screen lock method
– New double-tap-swipe gestures
– Android 7.1 launcher shortcuts
– Dock backgrounds to draw under navbar
– Quick start to easily change major settings (Nova Settings > Backup > Quick start)
Interested users can install the Nova Launcher 5.0 from Play store here and experience all the new features right away. Note that, in order to get Pixel Launcher look on your phone, you have to configure Nova Launcher.
First, update your Nova Launcher to latest version by going to Settings > Nova > Check for update (or installing from Play store). After updating, just do as given in this guide.