Galaxy Labs is a new experimental feature on Galaxy S7 and S7 edge through which you can experiment features like Unified Homes (app drawer removal) and Quick Call function on your Galaxy 7 or S7 edge. Galaxy S6 or S6 edge owners, who wish to get the Galaxy Labs and its experimental features on their device, read on to know how to get it.
In this guide, we will show you how to get Galaxy S7's Labs feature on Galaxy S6 and S6 edge. Note that the Galaxy Labs is an experimental feature through which Samsung offers additional features they are currently testing. The feature is disabled by default, which you can enable in settings menu. The newest addition to this menu is the ability to remove the app drawer and enable voice activated quick call function.
The first experimental feature of Galaxy Labs is the removal of app drawer. Once activated, you have all the apps, folders and widget on your home screen as in iOS. Read this post to know how to activate it.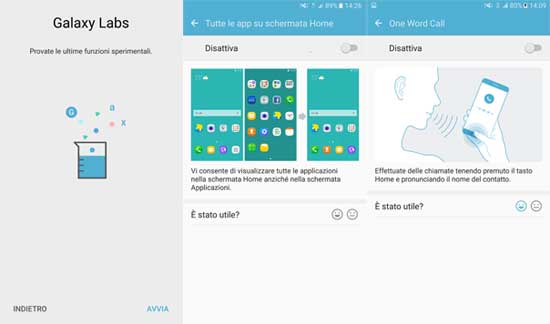 The second experimental feature is Quick Call, which is a voice activated function that allows you to make a call by simply saying your contacts name. Once enabled, you can activate Quick call by simply holding down the home button.
How to get Galaxy Labs on Galaxy S6 and S6 edge
If you wish to try out the Galaxy Labs features on the Galaxy S6/S6 edge, read on to know how it is. Note that it requires Android 6.0.1 Marshmallow.
1. Download Galaxy Labs apk file [HERE] and install it. Do not forget to enable Unknown source option in Settings menu.
2. Once installed, go to phone Settings > Advanced Features > Galaxy Labs and experiment features.
Note: If the APK does not work, you may try the below step. It requires a rooted Galaxy S6 and TWRP custom recovery on the phone.
3. Download the Galaxy Labs zip file [HERE] and save it on the phone.
4. Boot your phone into TWRP recovery, select install and flash the Galaxy Labs zip file. Reboot your phone and see how it works. (Source – 1, 2)