Motorola's high-end Android 4.4 smartphone, which is packed with smart, usable features designed for everyday users, brings excellent performance when comparing with similarly priced rivals. It powers 1.7GHz Dual core processor, Adreno 320 GPU and 2GB RAM. It has a 4.7″ AMOLED, 720 p display and is available in 16GB or 32GB storage.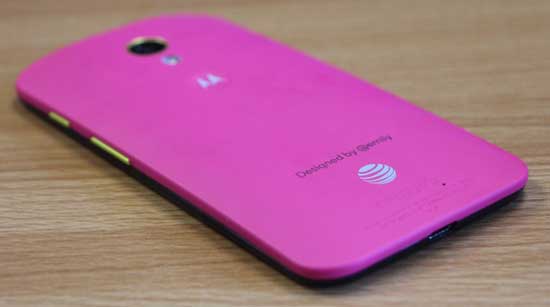 The most notable features of Moto X are Active Notification and Google Now voice activation (Touchless Controls). While Active Notification lets you know the notification without needing to unlock the device, the Google Now voice activation lets you search, call, text or play music without touching the device.
We have set down a list of custom ROMs for Moto X for specific carrier, dev and international GSM.
1. SlimKat (Unofficial, Moto X Unified All Variants): SlimRom is famous for its classy, system-wide dark interfaces. As its name suggest, it is a slimmed down ROM, but at the same time feature rich alternative to all other android operating systems.
Download and more details available at this XDA link.
2. Eclipse Moto X (Verizon Moto X): This ROM is based on the latest Android 4.4 KitKat for Verizon Wireless. The main advantage of this ROM is that it retains all of Motorola's features such as Active Notifications, Touchless Controls, etc, but removes all Verizon bloat removed such as VVM, Backup assistant, navigator, etc.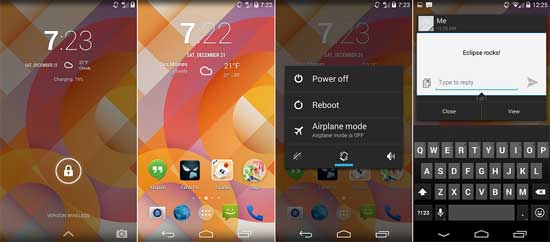 Download and more details available at this XDA link.
3. CyanogenMod 11 (Unofficial): This KitKat based Rom is for AT&T and Verizon Moto X users only. According to the developer, this ROM is very responsive, faster than the stock ROM. Ti features AOKP ROM ribbons (lets you quickly open apps, toggle settings, and whatever else you might want them to do ) and Tap & pay (available in Nexus and Google Play edition devices running Android 4.4) included.
Download and more details available at this XDA link.
4. AOKP for Moto X: Android Open Kang Project (AOKP) is a project that is always introducing a lot of new features all the time. This ROM offers several features such as custom toggles, ribbon (system-wide highly customizable application shortcuts and actions), custom vibration pattern, etc.
Download Moto X for T-Mobile from here and Verizon Dev Version from here.
Note: To flash custom ROM from recovery, custom recovery (CWM/TWRP) must be installed on your Moto X. You can download CWM recovery from here and TWRP recovery from here. (Source- XDA)