Are you looking for a better and sleek Custom ROM for your Galaxy device, but trouble in choosing one from the vast variety of custom ROMs? Popular custom ROMs such as CyanogenMod, Omni Rom, Paranoid Android, Chameleon OS and PAC-MAN offers some unique features, but if you want all the best features from these ROMs, then you might like the AOSB Project.
"The AOSB KitKat series of ROMs have been the pinnacle of perfection employing the best of all the best ROMs in a Package". The functions and settings provided by the AOSB Project are really a lot. It's really impossible to list them all in detail here.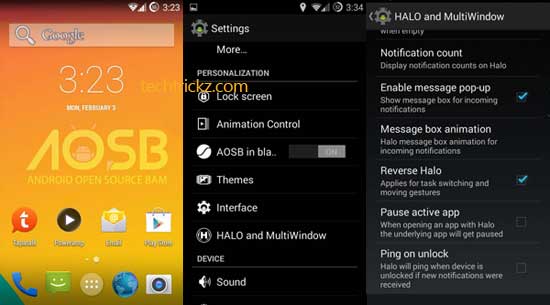 Main features are listed below:
– Multi Window of OmniRom
– HALO mode of ParanoidAndroid
– HTC style task manager
– Support OTA updates
– Integrated screen recording
– Incoming call pop-up style of OmniRom
– Xposed Framework
– App Bar, a sidebar with quick links
– Active Display of Moto X
– Support for enabling Nexus style virtual keys
– Full screen gesture function
This ROM offers great customization. You can change every single aspect of the ROM – drop-down menu, notifications bar, animation, theme and much, much more. What is interesting is that the ROM only weighs a little over 220MB.
Installation Instruction:
Note: Installing a custom ROM will void your manufacturer warranty! It's best to perform it on an older phone which is already beyond the warranty coverage
1. Make sure you have custom recovery installed.
2. Download the latest version of ROM package directly from developer:
Galaxy S2 I9100
Galaxy S3 I9300
Galaxy S4 I9505
Note 2
Note 3 N9005
Other devices
3. Install the ROM just like any other custom ROM (see details). Do a complete wipe before flashing the ROM.
4. Finally, download and install Gapps package (download from here).
See below video to know its working on Galaxy S4
What do you guys think about this rom? (source – XDA)