One of the most popular home screen replacement apps Action Launcher brings Adaptive Icons support to Android 8.0 Oreo devices. The latest beta version of Action Launcher (v28) features Adaptive icons and offers 5 Adaptive Icon styles, such as circle, square, rounded square, teardrop and squircle to choose from.
For your information, Google introduced Adaptive Icons feature with Android 8.0 Oreo. This feature allows app developers to create icons that will have different shapes for different devices, so ensure a consistent look. For example, Facebook app icon can be square shape on one device and round shape on another device.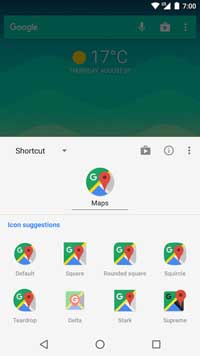 Note: If you want to learn more about Android Oreo's Adaptive Icons feature, check this article.
Comes to Action Launcher's Adaptive Icons feature, you can change icon style in Quickedit (find it under Action Launcher settings menu). This feature will help you give a consistent look on your home screen and app screen, but it is a plus feature of the app (requires in-app purchase).
How to change icon style in Action Launcher
1. Install Action Launcher (beta) from here.
2. Tap on Icons & App Shortcuts and then select Adaptive Icon style
3. Choose a desired adaptive icon style.
Also Read: How to Get Android O's Adaptive Icons Feature on Any Android Version?
Other enhancements included in this update (Action Launcher v28) are the use of light navigation bar, Action Launcher itself uses an Adaptive Icon, as well as better compatibility when running on Android Oreo.
Action Launcher v28 is already available for download via Play Store's beta channel and the stable version will be available to everyone through the stable channel in the coming days. (Source)