How to Limit Friend Requests From Strangers on Facebook
By Kannan on Feb 20, 2012
@techtrickz
There are several little things that you can fine-tune on Facebook to stay safe and private. For example, limiting unnecessary friend request from strangers or unknown people that you do not want to know. For many Facebook users these requests are annoyance, but unfortunately, many of them don't know how to control it. By making small changes in your privacy setting, you can limit the possibility of receiving Facebook friend requests from strangers.
To get to know about your profile on Facebook, there are many ways. One way is from the 'People You May Know' box that often appears to the right of the Facebook news feed.
The default privacy settings allow Facebook to reveal your profile to everyone (public). However, by making small changes in your privacy settings, you can restrict your appearances in the 'People You May Know' box to only friends of friends. Here is how it is.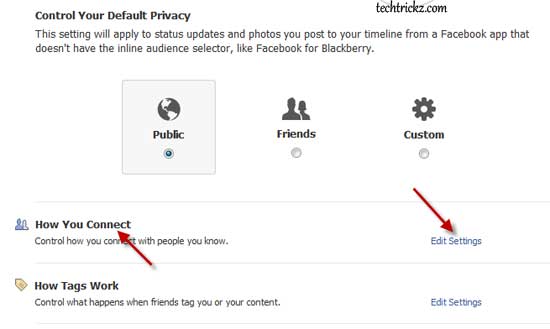 Go to your Facebook privacy settings page (click on the downward arrow shown at top right of your page and select Privacy Settings) and select 'How You Connect' option, then choose 'Edit Settings' option.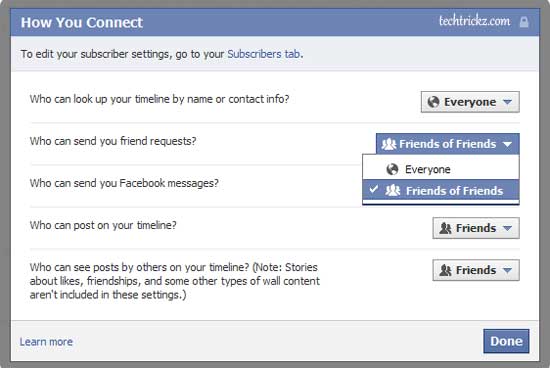 For the question 'Who can send you friend requests?' select 'Friends of Friends' and then click 'Done' to save the settings.
Now onwards your profile will appear in the 'People You May Know' box to only for people who are friends of friends. (Via)
Kannan
is a computer and Android enthusiast, a blogger by passion and a tech freak. His always ready-to-help attitude, knowledge and hard work is what drives him.
Latest Updates

Kannan | Jan 30, 2015

Keyboard app is an essential part of every smartphone. Without it, the phone is a useless device. However, sometimes your keyboard app stops working and shows "Unfortunately Android keyboard...

Advertisement

Find us on Google +

Find Us On Facebook

How to Guide
Gadget & Mobile

Internet & Browser

Security Tips
Copyright © 2015.The content is copyrighted and may not be reproduced on other websites. Techtrickz.com is not affiliated with any of the device manufacturers listed on this site. All trademarks and images are the identity of respective firm. Use of these trademark and images are subject to their permission.