Cameras on Google Pixel 2 and Pixel 2 XL phones are excellent. Features like Portrait mode, Smart burst, Zero shutter lag and other pro-controls helps capture crisp and clear photos with ease. A new feature of Pixel 2's camera software is 'Portrait' mode. With this mode users can capture crisp and clear object by blurring the background, though the phone does not have a dual-camera setup. The Portrait mode works with both rear and front cameras and use a special image recognition algorithm to obtain optimal result.
You can get the Pixel 2's Portrait mode on the first generation Pixel, and on the Nexus line-up phones, such as Nexus 6P and Nexus 5X with the Camera NX app. The app does not require root access on the phone. Thanks to the developer Charles Chow, all you need to sideload the Camera NX APK file on your phone to get the feature.
Camera NX is not a new app; it is here for sometimes now. Few months back, the developer updated the Camera NX app with Pixel's 'zero shutter lag' feature for Nexus 5X and Nexus 6P and now it updated (v 7.3) with the Portrait mode for older Google phones.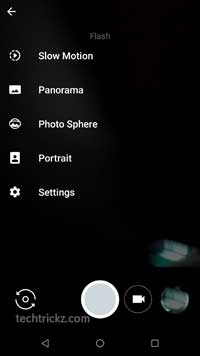 Interested users can download Camera NX APK file (35.6MB) from here (mirror) with Portrait mode. After downloading the APK, just install it on your phone (enable Unknown sources option if you are still on Nougat), open the app and in the menu you can see Portrait mode instead of the 'Lens Blur' mode.
– How to Get Pixel Zero Shutter Lag on Nexus 5X and Nexus 6P
We have noticed that the Camera NX's Portrait mode works only when it recognize a human face, while Google Pixel 2's portrait mode works with any object. Also, the app saves two photos in the gallery – one with portrait mode and other without portrait mode.
However, Camera NX app will bring good photos in portrait mode. You can read more about the app at source here.