WinX DVD Ripper Platinum Review And Free Giveaway (30 licenses)
To convert a video for a particular device, you will need to know its supported audio and video formats in addition to its resolution and maximum bit rate. This is a bit difficult task even for an advanced user. But with WinX DVD Ripper Platinum anyone can convert any DVD to any video format, with built-in presets for popular portable devices, such as iPod, iPhone, Sony PSP, Microsoft Zune, etc.
WinX DVD Ripper Platinum is an all-in-one DVD ripping tool. On loading the DVD, a list of chapters is displayed, and mark-in and mark-out sliders help give the start and end of the selected chapter, in case you'd only like to convert part of a chapter. In the lower half of the interface, you'll find two rows of tabs. The upper row has tabs for various video formats, including AVI, MP4, FLV, MPEG, WMV and MOV. The second row has tabs for device presets such as iPod, iPhone, PSP, 3GP, Zune, etc.
These two tabs make the process of transcoding videos pretty straightforward. For video formats and device presets, the software automatically sets the audio and video codecs that are compatible with the container format. You can also choose the codecs manually, but only those that are compatible with the selected container are displayed. Device presets offer more flexibility. Each preset has a drop down list of profile settings from which you can choose the desired output quality.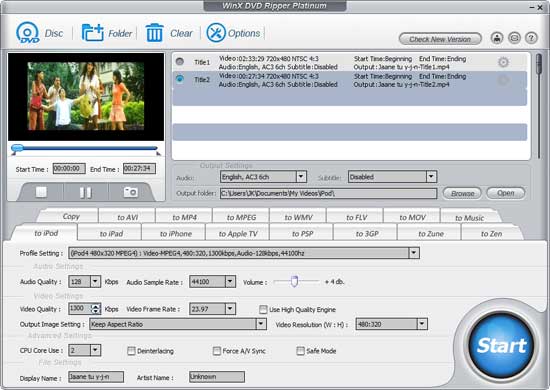 WinX DVD Ripper Platinum incorporates some useful features for advanced users as well. You can specify the number of cores the software should use. With advanced de-interlace accelerator, the software eliminates interlacing to ensure a clear output. The intelligent A/V synchronizer ensures the audio is in sync with the movie. WinX DVD Ripper Platinum is great for hassle-free ripping of DVDs to any video format or portable device format.
However, a few important features are missing though, such as source video playback, inclusion of a bitrates calculator, and MKV support. There are a few good free video transcoders that are more feature-rich, but the biggest advantage of WinX DVD Ripper Platinum is that it's very user-friendly.
Now we are pleased to announce that winxdvd.com is providing 30 FREE licenses of 'WinX DVD Ripper Platinum 'to Techtrickz readers. The price of this software is $45.95$, but you can get it absolutely free. You just need to comment this post with valid email address to receive your license key. You can download WinX DVD Ripper Platinum at here (10Mb)
Update: The giveaway will end on Jan 10, 2011 and we will send the keys to all winners that day itself. Meanwhile, you can download the product at here.
Update 2: The contest is closed (Jan 11) and we'll send the keys to all winners. Thanks to all participants.