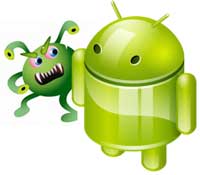 Smartphones aren't just for fun, they are using to connect to the internet, download tons of data, access email, Facebook, Twitter, and other online activities. So, it is necessary to have a good antivirus program on a mobile phone to protect your phone and personal data. If you own an Android based mobile phone, here is a best, free anti-virus software called Droid Security. It'll scan your phone completely and removes viruses with a click. It can also locate a lost phone using GPS.
Droid Security free version has following features:
Security: Scan whole device and identify and remove viruses with a simple click, Automatic scans can be run weekly, daily, or on demand, Check apps for malware before downloading from app stores and Check website content, emails, and SMS for malware before downloading to device.
Theft protection: Locate lost or stolen device using GPS, Create and display message on screen remotely, Lock device and wipe content and Manage applications remotely.
SMS Spam Protection: Basic protection from SMS Spammers
Droid security can be downloaded from Android Market on your device by searching for 'Droid Security'. Or you can download at here to your PC, then transfer to your Android device.