Firefox 4 is on the way and the beta 2 version has been released for the testing purpose. The main feature of this new release (Firefox 4 Beta 2) is App Tabs which allows users to place a permanent aviconed tab for websites on the tab bar.
How to have App Tabs in Firefox? App Tabs looks very similar to 'Pin Tab' feature of Google Chrome and every tab can be converted to App Tabs by just right clicking on the tab and selecting the option 'Make into App Tab'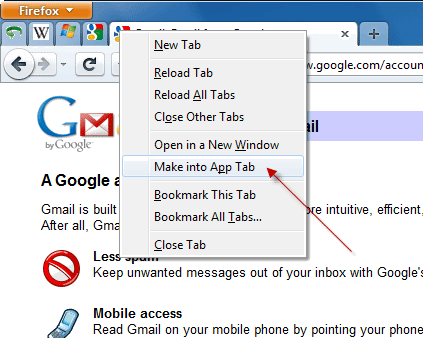 Powered by the Gecko 2.0 page-rendering engine, this new release has several improvements over its previous version like better support for CSS3, faster JavaScript, improved scrolling and better startup times, etc.
You can download Firefox 4 (beta 2) from the official release page. But, if would like to test this beta 2 without affecting your existing Firefox install you can use the Firefox 4 Beta 2 Portable version.