Hamster Free Burning Studio is a lightweight, easy to use free burning software that supports CD, DVD and Blu-ray discs. It can perform the most popular operations with laser disks: data burning, backup copying, creating ISO templates, creating music disks and cloning DVDs, CDs or BluRay.
Hamster Free Burning Studio automatically identifies the type of disk inserted in the tray, its capacity and possible burning speed onto the disk. With this tool you can burn CD, DVD and BluRay disks, erase rewritable discs, checks the readability of written documents, and create ISO templates.
Hamster Free Burning Studio requires Microsoft .NET Framework 2 and runs on Windows XP/Vista/7 (32 and 64 bit).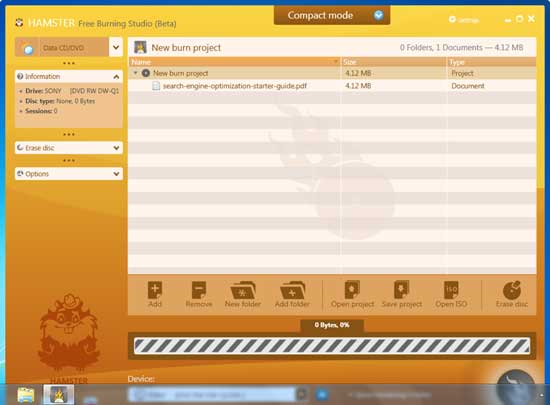 Hamster Free Burning Studio can be downloaded at this link (web installer)