New Tab page is one of the several new features of Firefox 13. By default, New Tab page displays 9 thumbnails of your most recently and frequently visited web pages when you open a new tab. However, New Tab page misses some customization options. For example, there is no option for changing the number of tiles. Here is how it is.
New Tab Tools is a little, restartless Firefox add-on that lets you change the number of tiles (per row and column) on the New Tab page. You can add any number of thumbnails on the page from the add-on's option page.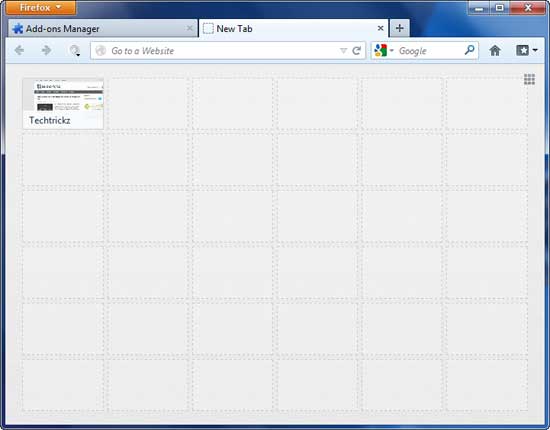 If you want to add a number of web pages and bookmarks on Firefox's New Tab page, install the New Tab Tools add-on from Mozilla add-on page.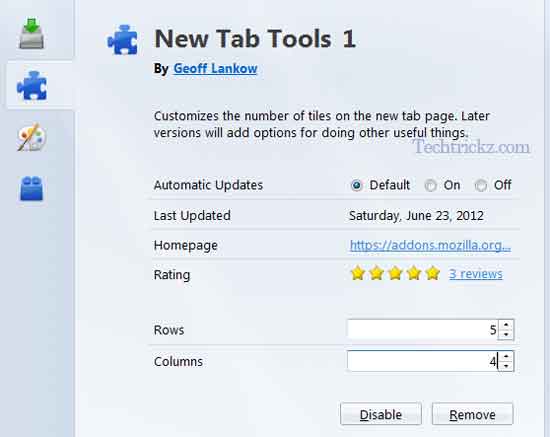 Then go to its option page (Firefox menu – Add-ons – Extension (or) type "about:addons" in the address bar and hit enter) and change the values in rows and columns. Note that, enter values between 1 and 10 only.
How to add Bookmarks to the new tab page?
To add bookmarks to the new tab page, just drag and drop them from the bookmarks bar onto the New Tab page, or drag and drop from bookmarks manager (click Ctrl-Shift-B to open the bookmarks manager) [via]