Twitter is a great micro blogging tool for sending and reading text messages online known as tweets.
Likewise you can also share snapshot of your screen, for example something you're currently working on, or something funny you found online, for free via services like Twitpic if you have a Twitter account.
But, to share picture on Twitter picture service, normally you'd have to take the screenshot manually, crop it up for Twitter in an image editing program, and then manually upload it to a Twitter picture service.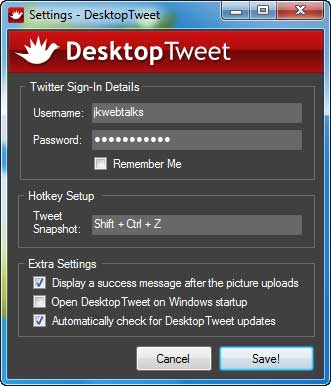 To help you, here is a freeware utility for sharing picture on Twitter instantly. The utility called DesktopTweet makes the above process a little easier by automating pretty much everything.
All you have to do is to take a snapshot of the screen using a hot key (default key Shift + Ctrl + Z), then write out a tweet to accompany it and then select a service like Twitpic to tweet the snapshot. That's it.
Download DesktopTweet