Fresh RAM is an application for Windows that help you improve your system's performance by optimizing the ways your system and applications are using memory,
A fast response of an application highly depends on the amount of free memory the system can use. This software program can free up memory by optimizing memory usage, as a result, it will speedup entire works.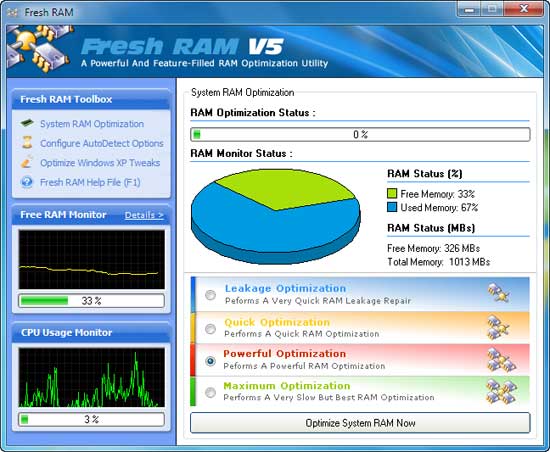 Fresh RAM uses a fast and complicated memory analysis algorithms and the appearance of the software is simple, understandable and attractive.
You always see the overall situation about your system memory; you can select analysis algorithm complexity and run optimizations.
Moreover, this software product also comes equipped with additional Microsoft Windows XP tweaks, which will make sure that you get the most out of your computer.
Fresh RAM normally costs $14.99, but as a promotion, interested Facebook users can now grab it free by becoming a fan on their Facebook page. [via]