Instantly replace Windows 7 Start Orb with custom start button
By Kannan on Feb 6, 2010
@techtrickz
Like to have a new look to your Windows 7 start button (Start Orb)? Here is a simple to use, portable tool- Windows 7 Start Orb Changer, which lets you replace custom Orb button with a click.
Unlike other similar tools, you don't need to fiddle with your Windows system file, even a novice can quickly the Orb button.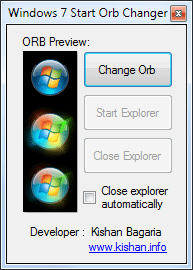 Just run the program, then click Change Orb button and browse to the custom Start Orb bitmap file and confirm the settings. (This program included 8 sample buttons; you can find more by just googling)
Windows 7 Start Orb Changer works on both 32-bit and 64-bit Windows 7 versions. Download it from here.
Kannan
is a computer and Android enthusiast, a blogger by passion and a tech freak. His always ready-to-help attitude, knowledge and hard work is what drives him.
Latest Updates

Kannan | Jan 25, 2015

Google Now has become a prominent feature for most Android users. The voice assistant provides an easy platform to stay involved with everything that is going on in the...

Advertisement

Find us on Google +

Find Us On Facebook

How to Guide
Gadget & Mobile

Internet & Browser

Security Tips
Copyright © 2015.The content is copyrighted and may not be reproduced on other websites. Techtrickz.com is not affiliated with any of the device manufacturers listed on this site. All trademarks and images are the identity of respective firm. Use of these trademark and images are subject to their permission.