Google's Chrome web browser becomes a serious alternative in the web browser market. Speed, ease, simplicity and other web-centric offerings, including Google+, Docs, Talk, Maps, etc attracts more and more users and Google continually implementing new features to make it even smarter. For example, Google just introduced a revamped New Tab page in Chrome Beta channel, which makes it easier for users to manage apps, bookmarks, and most visited sites.
On New Tab page, installed apps, bookmarks, and most visited sites appear in three different sections. You can switch to each section by clicking the section labels shown at the bottom of the page or the arrows at the side of the page. Chrome will remember your last section.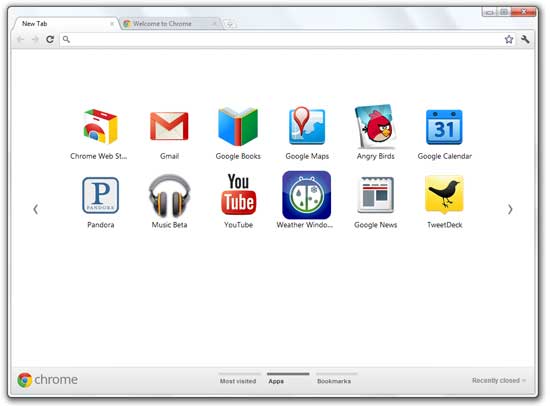 Another interesting and a handy feature of New Tab page is that you can create your own app section and rename this section by double-clicking the label. For example, you can create a section of apps for "Work" (full of productivity apps) and a section for "Play" (full of games) and the like.
Besides, to handle each app more smoothly, you can rearrange apps by just dragging and dropping them on the page. And to remove items from any section, drag and drop them to the bottom right of the page where a trash can icon will appear, just as in Android Honeycomb.
As I mentioned above, this feature is now available on Chrome Beta channel, and perhaps it will soon available on stable version.
Note: You can browse thousands of new apps and games for the New Tab page at Chrome Web Store. [via]