Backup and restore utility for IE, Firefox, Opera, Chrome & Safari
Though newest browsers are capable of backing up and restoring bookmarks and favorites, here is a tiny, portable utility which makes your job extremely simple.
The application called Bookmarks Backup lets you backup and restore your browser's bookmarks, tabs, favorites and more with a few clicks. It supports latest Internet Explorer, Mozilla Firefox, Google Chrome, Safari and Opera browsers.
Why a browser bookmark backup? There is always a chance that your browser could actually crash for various reasons and you could lose all your bookmarks.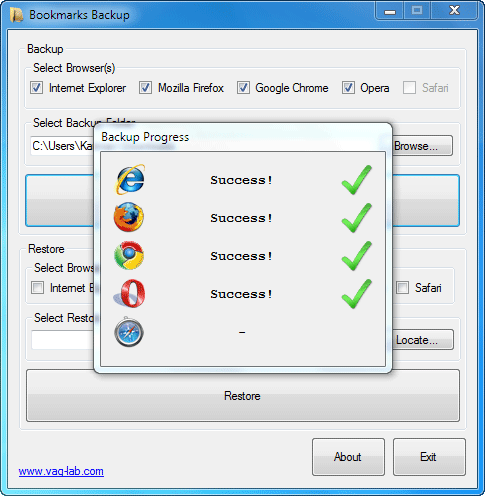 Besides, it is useful when you reinstalling your operating system or want to transfer bookmarks to another PC.
Bookmarks Backup is a portable and best tool for backing up bookmarks, favorites, history, saved passwords, open tabs and pages for reuse. You can download Bookmark Backup free at source.