Cybercriminals are continuously refining the technique they use to spread viruses through the web and hide them on computers. Their ability to develop, mutate and launch a myriad of attacks (phishing, malware, exploits, etc) appears significant these days. It has never been more clear that a PC cannot be allowed to exist without adequate antivirus and anti-malware measures.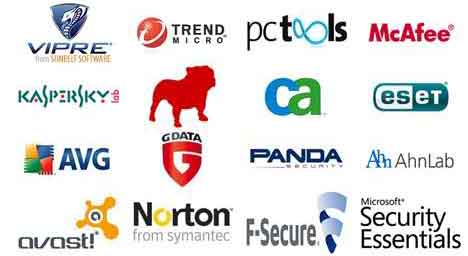 The open dangers on the internet can simply not be ignored and no user should be out there without effective safeguard. The only solution therefore is a good protection program for your PC.
At the same time, there are several security products which profess to protect the user from the attacks. Some even claim to catch every threat, or offer total protection, maximum protection, etc.
To help users make better, empirically informed, decisions about how to protect themselves, NSS Labs, the leading independent security product testing and certification organization, has examined 11 major security products such as AVG, ESET NOD32, Kaspersky, Symantec, Panda, Microsoft, F-Secure, MacAfee, etc. for protection and performance.
This in-depth test (October, 2010) examines multiple threat types and vectors from end-to-end, replicating how real people access the internet, such as Malware download, client-side exploits against applications such as Internet Explorer, Firefox, Quicktime, and Adobe Acrobat, and Key performance metrics, such as increase in RAM, CPU, boot time, and application load time.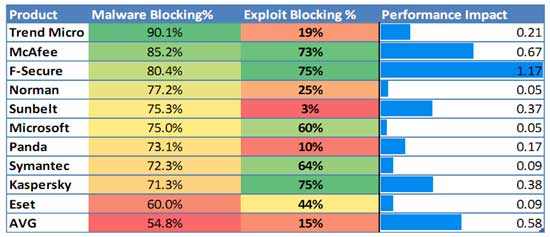 The report reveals that Trend Micro offers the best protection against Web Malware, and excellent performance (i.e. minimal impact). However, its lack of exploit protection is a considerable impediment.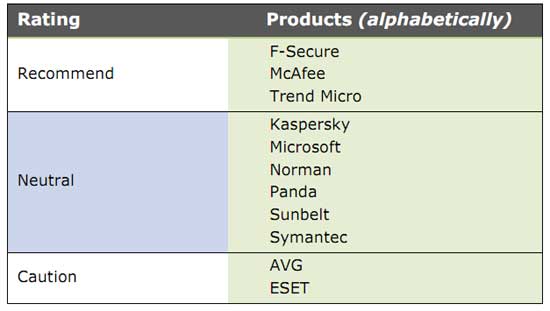 McAfee and F-Secure also offer good protection from Web Malware. F-Secure, Kaspersky, and McAfee offer the best protection against exploits. However, McAfee and F-Secure had the largest performance impact. (You can download the complete test result from here (pdf))