Secure Your Data When Using Public Wi-Fi Network on Android Phone and Tablets
Using public, open Wi-Fi network on mobile phones isn't secure always. The main type of attack via public Wi-Fi network is known as man-in-the-middle attack. Cybercriminals can intercepts user's data such as email address, password, credit card number or anything else send or receive over the network even before reaching the destination. The best way to protect your data on public Wi-Fi network is by using a VPN service.
VPN service (virtual private network) secures your computer or mobile phone's internet connection by encrypting all of the data you're sending and receiving. While several VPN services are available for PCs, only a few is available for mobile phones.
For Android phones and Tablets, the best free VPN service is Hotspot Shield. With it, you can protect your data when browsing online through a public Wi-Fi network.
Hotspot Shield VPN program for Android provides basic protection at no cost. However, there is one disadvantage that it displays advertisements while running. The paid version offers more features such as anti-malware protection and lower data consumption (KB).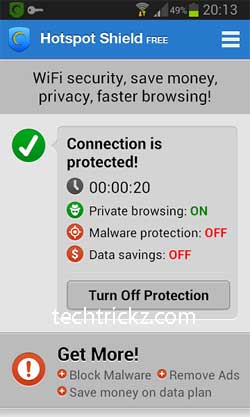 How to use it? After installation, run Hotspot Shield VPN. You will see its icon in the notification bar. You will be able to activate only when you need it and it will not consume your battery in standby.
As you may know, Hotspot Shield is the most popular, free VPN service available today that prevents snoopers, hackers and even your ISP's from viewing your web browsing activities, instant messages, credit card information or anything else you send or receive over the network.
It is an effective program if you want anonymous on public Wi-Fi networks. You can download it from Play Store here.