To get protection from the latest malwares, antivirus programs should be updated regularly. Most commercial antivirus programs do this automatically, though there are differences in update frequency.
Lack of regular virus signature updating is the main drawback of free antivirus programs. Free version gets lower priority than the commercial one.
AVG antivirus free version does not allow users to schedule updates. Updates are scheduled only one time at the Windows start-up or you need to do this manually.
But the big problem is, most often, at the start-up internet connection is not active, therefore, the Anti-Virus remains out of date until the user do update manually. But as a manual operation, this is not being done usually.

Here is a free utility, AVUS (Anti-Virus Update Service), for updating AVG free antivirus (AVG 8.5+). This utility does automatically what users would do manually.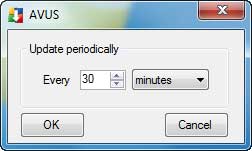 You can set the update frequency in minutes or hour from the option menu. It executes a temporary batch file every certain amount of time invoking AVG Anti-Virus to do updates.
You can download AVUS (Anti-Virus Update Service) at: http://avus.sourceforge.net/