While popularity of Android is growing steadily, the experience shows that a growing interest in a certain operating system comes along with the increasing number of malicious programs designed to infect it. In this context Android devices requires a powerful and reliable antivirus solution. Dr.Web Anti-virus is a reliable anti-virus solution for users of mobile devices working under the Android operating system.
The program employs the most advanced developments and technologies of Dr. Web aimed at detection and neutralization of malicious objects which may represent a threat to the device operation and information security.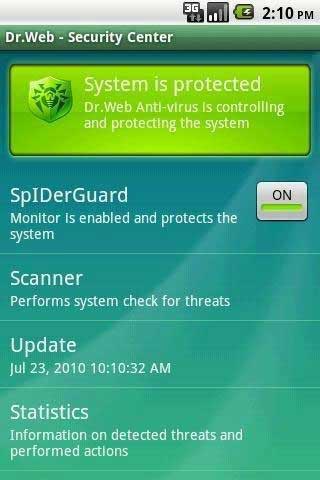 The new product scans the entire file system of a mobile device including SD card and phone's memory where applications files are stored. Malicious objects detected by Dr.Web for Android are moved to the quarantine.
Following are main features of Dr.Web for Android:
Constant real-time protection of the file system (scanning of saved files, programs which are being installed etc).
Scanning of the whole file system of the device or files and folders selected by user
Scanning of the archives
Scanning of the files on removable memory cards
Detection of Windows autorun files
Detection of the .lnk files (threats defined by Dr.Web as
Exploit.Cpllnk)
Deletion of the infected objects or their isolation in quarantine
Dr.Web virus databases updates via Internet
Statistics of the detected threats and performed actions, program log
Dr.Web for Android supports Android OS 1.5/1.6/2.0/2.1/2.2. You can download the apk file from here.