As reported earlier, OnePlus Launcher, Weather, Gallery and Community apps are now available on Play store, which you can download and use right away on OnePlus 3/3T and OnePlus 5 devices runs OxygenOS. It not only helps OnePlus to push apps update easily with features and changes, but it also speed up the OxygenOS update. Below are the download links for all these apps.
The new OnePlus Launcher comes with optimized home screen folder icon, double finger touch support and general bug fixes. Also, the Launcher features 'WYSIWYG' settings, which helps you setup and customize your home screen without any fuzz. The launcher also features Secret gestures, custom icon pack support, Shelf and more.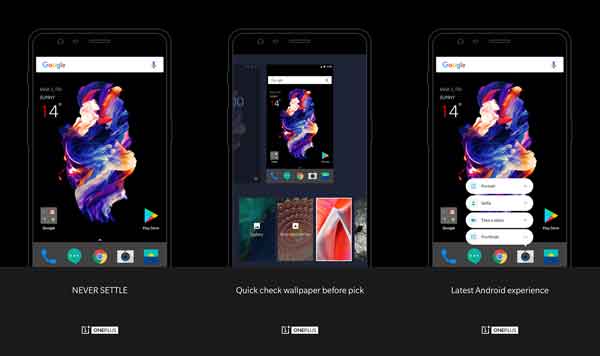 Full change log of OnePlus Launcher v2.1.5:
– Optimized home screen folder icon, with a preview of the first four icons in the folder.
– Redesigned style to mark folders that have already been opened.
– Double finger touch support, allowing you to hold an item while sliding on the home screen.
– General bug fixes.
OnePlus 5, OnePlus 3/3T owners can now upgrade the following apps to the latest versions on Google Play without waiting for the full system update.
OnePlus Launcher [download]
OnePlus Community [download]
OnePlus Weather [download]
OnePlus Gallery [download]
Also, OnePlus icons are also available for download, which you can use to customize OnePlus launcher (launcher supports icon pack). You can download default (download here), square (download here) and round icon (download here) packs from respective links.
For your information, many big brands like Google, Samsung, etc are now publishing their proprietary apps on Play Store. This helps OEMs to update their apps easily with new features and changes via Play Stores. Users don't have to wait for the full system update for any change. It seems that OnePlus is also following this trend. (Source – OnePlus)