Send Data from PC to Android Phone with Droid Manager Browser Extension (Firefox and Chrome)
Droid Manager Browser extension (Chrome and Firefox) lets you connect your Android smartphone with your computer from anywhere in the World. You can use this extension to send web URLs, YouTube video URLs, your map positions, custom note or selected text from webpages to your phone from anywhere. Also, this extension displays the current status of your phone like battery status, missed calls and new messages on your computer.
To use this service, first you need to install Droid Manager extension to Chrome or Firefox browser, then install Droid Manager app from Play Store (it's free) on your android phone. Also, need to register a free account before start using.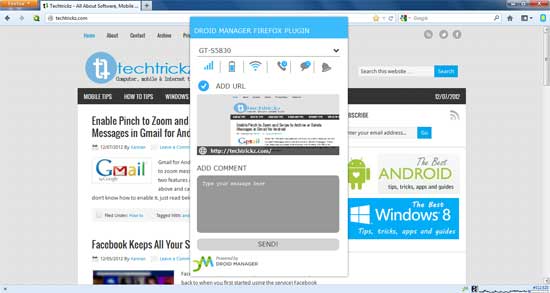 Sign in with your Droid Manager account (both on PC and Phone) to connect your phone with a PC. Once connected, you will be able to send items from your browser.
To send items, if you're on a webpage, just click Droid Manager icon on your browser's address bar and click "Send" button to send the URL to the phone. To send text from a webpage, drag the text area and click Send button.
You can download Droid Manager from Play Store here. Droid Manager Chrome extension can be downloaded from here. Firefox extension can be download from here.