SDCard Watcher Checks Apps that Cluttering your SD Card with Obscure Folders (Android)
If you have habit of installing and uninstalling too many apps on your Android smartphone or tablet, you might like SDCard Watcher, because every time you install an app it will create a folder (s) on your SD card, but uninstalling the app won't remove the folder from the SD card. Over the time, your SD card filled with random folders, which makes annoyance to you. SDCard Watcher help you identify the apps cluttering your storage with obscure directories.
SDCard Watcher is a free android app that runs a background service on your phone and monitors the SD card for changes. When a new folder is added, it makes a note of what app was currently running in the foreground at the time and notify you.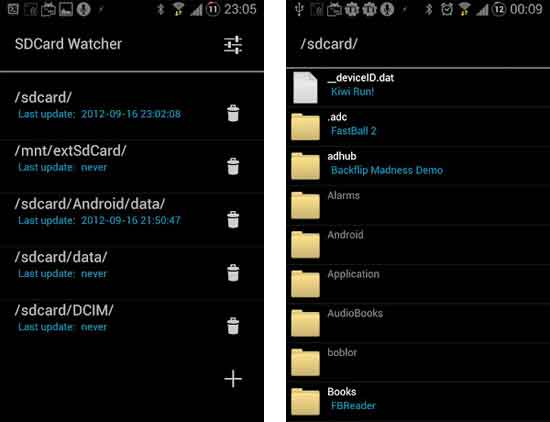 You can watch multiple locations (external SD card as well as internal storage) of your phone and when an app creates a folder in a watched location, SDCard Watcher will notify you what folder was created.
SDCard Watcher is an invaluable tool for those who installing many apps to keep the SD card clean.
Note: Though the app is able to watch folder creation, it has no ability to view apps that created folders before installing the SDCard Watcher.
SDCard Watcher can be downloaded from Play Store for free.