Samsung Android App to Turn Your Phone Into TV Remote Control
By Kannan on Feb 5, 2011
@techtrickz

Recently, Samsung has released a free app that turns your Android powered Samsung mobile phone (supports OS 2.1 and above) and Galexy Tab tablet into a digital TV remote control. The Samsung TV Remote app works with compatible Samsung TVs. The android app uses Wi-Fi to control your TV. Your phone's keyboard, numbers, and navigation keys can be used to perform the remote control functions.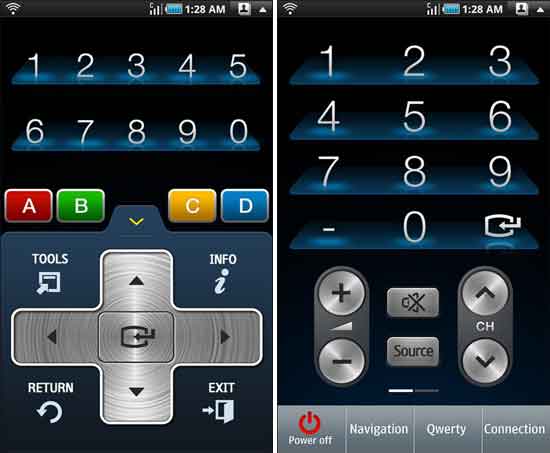 The app supports following Samsung TVs: Samsung LCD C650 and above, LED C6500 and above and Samsung Plasma C6500 and above. The free app can be downloaded at Android Market.
Download Samsung TV Remote for Samsung phone
Download Samsung TV Remote for Galexy Tab
Kannan
is a computer and Android enthusiast, a blogger by passion and a tech freak. His always ready-to-help attitude, knowledge and hard work is what drives him.
Latest Updates

Kannan | Jan 26, 2015

Sony Xperia Z3 and Z3 Compact are decent phones. If you want to install certain powerful applications or customize it with Xposed Framework needs root access on it, but...

Advertisement

Find us on Google +

Find Us On Facebook

How to Guide
Gadget & Mobile

Internet & Browser

Security Tips
Copyright © 2015.The content is copyrighted and may not be reproduced on other websites. Techtrickz.com is not affiliated with any of the device manufacturers listed on this site. All trademarks and images are the identity of respective firm. Use of these trademark and images are subject to their permission.