Features offered by Android smartphone makes our day-to-day activities easier to deal with, but one of the main issues concerned with smartphones is privacy. Android offers screen lock system to lock down your entire device from unauthorized access. Yes, it is fine, but there are times when you would be better served keeping individual apps away from prying eyes.
For instance, setting up a screen lock on Android phone is simple, but soon it would become a real pain, as we have to enter the passcode or draw the pattern every time to access anything on the device. Therefore, if you want to secure only the data that you feel needs securing, for instance, email app, messaging app, Facebook or Twitter app, here is how it is.
In previous posts, I had mentioned about several apps that could password protect individual apps on Android device. APP Lock is similar one and quite useful if you want to only secure the data that you feel needs securing. You can tell it to lockdown Twitter and Facebook or your messages and emails.
APP Lock can be used to lock down apps such as SMS, Contacts, Gmail, Facebook, Gallery, Market, Settings, Calls or any app you choose, with abundant options to protect your privacy.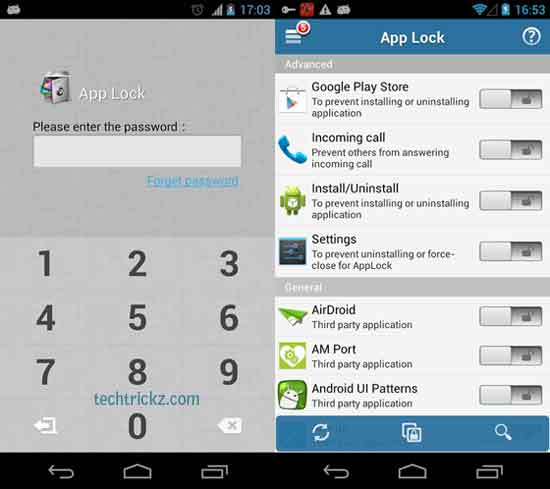 It's easy to use too. Once installed, it'll ask you to enter an unlock password, then type a security question and answer it and then select the apps you want to lock. That's it.
APP Lock can be downloaded free from Play Store.