PhoneClean is a simple solution to periodically clean junk files from iPhone, iPad and iPod touch to make it run fast and to free up its storage space. Just like a computer, over a period of time our iOS device has also become sluggish due to useless and unwanted junk files generated by Apps and iTunes. By regularly cleaning up the device, you can improve its performance and free up space.
PhoneClean is a small, freeware tool and very simple to use. With just 3 simple steps, you can free up your device from unwanted files you have accumulated on it.
Below is how to use PhoneClean to remove junks from iDevices
PhoneClean supports iPhone 4S, iPhone 4, iPhone 3GS, iPhone 3G, the first generation iPhone, the new iPad, iPad 2, iPad, and iPod touch 1 2 3 4.
Step 1: Download (download link at the end of this post) and install PhoneClean (requires .NET Framework 3.5 on your computer)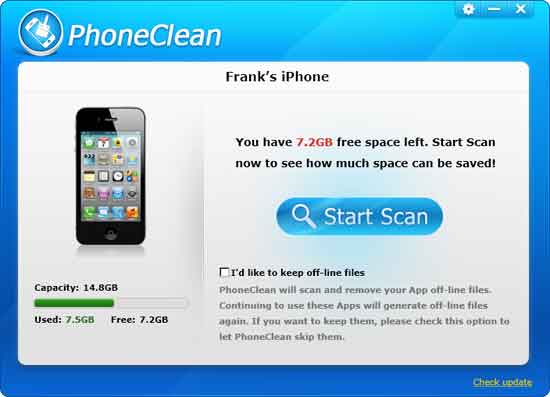 Step 2: Connect your iDevice with your PC and launch PhoneClean. It'll display your phone's name.
Step 3: Check the option "I'd like to keep off-line files" option if you wish to keep offline data generated by some Apps. Then click "Start Scan"button
Step 4:  After the scan is completed, you will see a "Clean" button, just click it. After few seconds, PhoneClean will complete the cleanup on your device.
PhoneCleancan be downloaded (3.5MB) from developer's website for free